When it comes to corporate travel, organisations need to be financially responsible. At the same time, they need to be efficient and ensure unique requirements are met. So the key question is should you DIY or outsource corporate travel?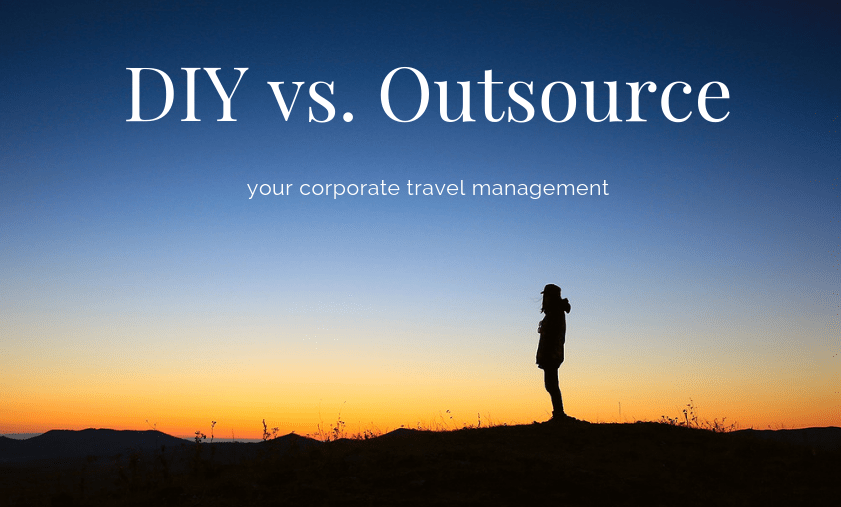 It can be tempting to keep control of your corporate travel in-house. In some circumstances, it probably makes financial sense to DIY . For example if you're only dealing with a few business trips a year. Companies who prefer to organise travel themselves will also often argue that cost and policy non-compliance are factors.
However, outsourcing to a travel management company (TMC) does have a number of benefits over doing it yourself.
More resources
A TMC has the expertise and the tools to streamline the booking process and consolidate the entire organisations' travel. They will also troubleshoot any problems that may arise, from lost luggage and delayed flights to hotel issues and change of schedule. Some of these issues take a minimum of 30 minutes of just being on hold until you speak to someone.
It is cost-effective
Outsourcing means just one company organises all your travel. While you might think you can always get a good deal by using online booking engines, in the long run a TMC with the right tools is likely to save you more. Deals that look good on the day of search for example may not always be available when the travel has been authorised.
Outsourcing saves on administration costs, including time spent invoicing and on making or changing bookings. There is also only one service level agreement in place with the TMC, rather than several across individual platforms.
Everything is systemised
From flights, to hotels and even car hire, outsourcing means every booking is in the same system. This makes reporting and tracking travel spend easy.
It also means that if emergency situations do occur, traveller locations and contact details can be found immediately, allowing you to fulfill your duty of care.
It's more than just booking travel
When you retain a TMC, you're getting more than just a few flight and hotel bookings. A TMC can assist your travellers with local knowledge on the ground at destinations, help you create a travel policy, and suggest strategies to curb non-policy compliance. A TMC will also help you understand how much travel is being booked through the system, and how much is 'going rogue'!
Travel involves many elements, which all need to work to make the journey as smooth as possible. Flights, hotels and car hire need to be seamless, suit the requirements and a cost-effective choice.  A quality TMC can help you achieve this, on every journey. Talk to us to discover how.